Maitumeleng Bocanana rises very early each day to trudge several kilometers in the dark to collect water for her household.
She normally draws water from a community tap supplied from a protected spring close to her home in the tiny rural village of Ha Noha on the banks of Lesotho's Senqunyane River. But during times of drought, like now when Southern Africa is reeling from the twin effects of low rainfall and Covid-19, she says members of her community have to travel for kilometers to fetch water from a faraway water spring that rarely goes dry.
"When it goes dry we must fetch water from far [away]. I don't know how many kilometres, but it is very far,"she said.
Once at her destination, Bocanana must join a long queue of women from Ha Noha and other nearby villages, waiting her turn to collect water. 
Bocanana needs a minimum of 50 litres a day for her household's needs. But because she can only carry half of that at once, she must do two trips a day to ensure that there is enough water for her family for cooking and drinking, and to wash themselves and their clothes. The Lesotho Department of Rural Water Supply estimates that rural communities need at least 30 l/day per person.
"When it goes dry we must fetch water from far. "

Maitumeleng Bocanana, villager
Yet adjacent to her village, a company backed by Canadian investors has built a multimillion-dollar facility where it is growing water-hungry marijuana for medical use.
The "green gold" crop is being cultivated by MG Health, currently Lesotho's largest commercial grower of medical cannabis, under a license issued by the Lesotho government. MG has joined the rush to feed growing demand in the West for cannabidiol (CBD), which has medical and healing properties. So far, MG's pharmaceutical-grade cannabis extracts and products are being exported to Switzerland, Belgium and Israel, but they hope to export to more countries in the future.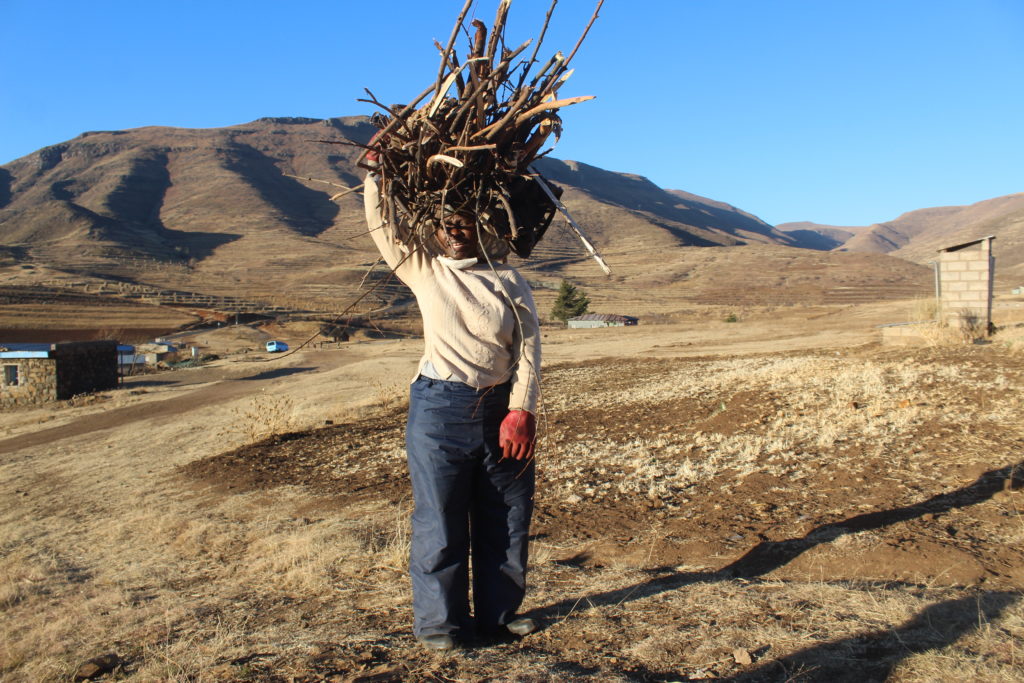 The company's water consumption only compounds the water woes for many like Bocananain Lesotho, which is in the grip of a crippling drought and recently initiated the second stage of the Highlands Water Project that has pumped billions of gallons of clean water from the Mountain Kingdom to South Africa. In October 2019, the Lesotho government declared a drought emergency, saying that over half a million Basotho were facing severe food insecurity. In an appeal for urgent humanitarian assistance, then-Prime Minister Thomas Thabane said that US$33.7-million was needed until April 2020 to assist 261, 000 people with life-saving interventions.
As a result of the appeal, Lesotho received donations from various sources, including a European Union contribution of 1.5 million Euros in humanitarian support. The donations enabled the country's World Food Program to expand its then-ongoing emergency drought assistance to 22,100 more people.
But unlike the water-deprived villagers, MG Health is not short of water. It uses more water than what many families in the area consume.
Andre Bothma, MG Health's Chief Executive Officer, says the company chose the Marakabei area to build its $20-million facility because of an abundant water supply from the Lesotho Highlands Water Project's Mohale dam. He says he found the site while scouting for a location for the facility during the harsh el Nino-related drought in 2015, and discovered that water was still being released from the dam into the Senqunyane River to ensure it kept flowing.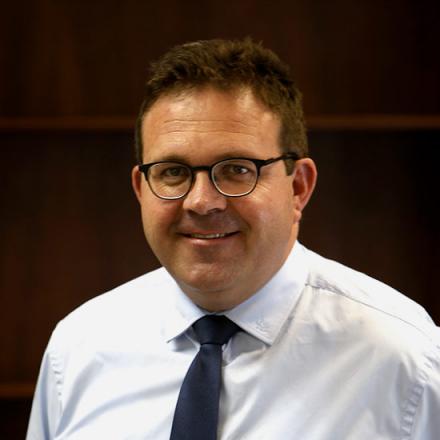 But villager and former MG employee Makume Putsoa said that even though MG draws much of its water from the Senqunyane River, it has also fenced off the area around its facility, cutting off villagers' access to natural springs. Locals have traditionally relied on these springs when other water sources run dry, as they always have water, even in times of drought, Putsoa said.
The consequences extend beyond the amount of water villagers like Putsoa need for survival. The natural water springs also have "healing powers" and are also used for traditional medicine purposes, he said. But those healers who used those springs, as well as animal herders, cannot access these water sources as they have been fenced into the MG Health's compound.
"The problem is that they fenced off these water sources and they now belong to them exclusively and local people cannot access them," he said. 
The consequences extend beyond the amount of water villagers like Putsoa need for survival. The natural water springs also have "healing powers" and are also used for traditional medicine purposes, he said. But those healers who used those springs, as well as animal herders, cannot access these water sources as they have been fenced into the MG Health's compound.
Putsoa added that traditional medicines have also been fenced off from area residents.
"Medical cannabis uses a lot more water than us villagers. They water the plants every morning when workers arrive and again in the afternoon before leaving work. We do not have a problem with them growing their cannabis, but that plant really takes up a lot more water than we do as members of the community."
Bothma, in response to claims that MG fenced off water springs, said that in 2020 MG "…paid M1.6 million (about USD100,000.00) to the community members whose land we occupy. We have compensated them for the wetlands and the water spring that are located here. It is in our lease agreement."
Lesotho's Water Affairs Minister Nkaku Kabi said that even though he had visited MG Health facility "a few times" when he was Minister of Health, this was the "first time" he had heard of the water problems faced by Marakabei and other neighboring villages. Regardless of how lucrative the cannabis industry might be, people should get this water before the plants do, he said.
Kabi said the communities faced with acute water shortage should formally report to Rural Water supply officials in their area or directly to the ministry. However Kabi said both Marakabei and Ha Noha are not featured on a list of communities whose water supply systems are scheduled to be refurbished or new ones constructed during the 2020/2021 financial year.
On the other hand Kabi, as a Minister of Water may instruct his ministry official to investigate the Marakabei and ha Noha water woes and ensure the communities are included in a list of other communities set to receive water soon.
"If cannabis gets water, so should people," Kabi said. "But if there are freshwater springs and clean river water available then the cannabis produce will be of the highest quality and good for the market.
Lesotho joins the scramble for "green gold"
The MG Health facility is an outgrowth of a push by Lesotho's government to cash in on the global legal cannabis market, which 2019 research estimated to be worth US$16.5-billion. This could grow to US$73.6-billion by 2027, research published in February 2020 found.
In 2017, Lesotho became the first African country to legalise the cultivation, processing and sale of cannabis for medical and scientific purposes, and began to offer legal licenses to grow cannabis.
At first, licences were allocated without charge, but in March 2019 the government increased the fee from 500,000 maloti, (USD$35,000) to R5-million maloti (about $300,000) "to discourage entities which secure licenses for speculative purposes."
But at that price, acquiring a licence has proven to be prohibitively expensive for traditional small-scale farmers who depend on growing marijuana as a cash crop to help make ends meet. As a result, they face arrest and fines for growing illegal crops.
The boreholes that never existed
In late 2019, MG Health reported that it had so invested almost $20-million in its Lesotho venture. Signs of a boom in the trade for "green-gold" came months later, when the company announced a deal in February 2020 with UK-based company Drug Science in February 2020. The deal made the company a supplier for Drug Science's medical cannabis-focused clinical research, which will target 20,000 U.K.-based patients.
MG Health said it would benefit local residents as well as international patients. The company wrote on its website earlier this year that it had "improved the water systems in the village of Marakabei, by fixing 40 boreholes around the village."
But many residents said no boreholes existed. And, far from alleviating the water problems, MG Health had increased demand by bringing in workers from other parts of Lesotho, who are being accommodated close to the growing facility, some villagers said. Instead, the communities continue to depend on Department of Rural Water Supply water reservoirs, which are fed by protected natural springs.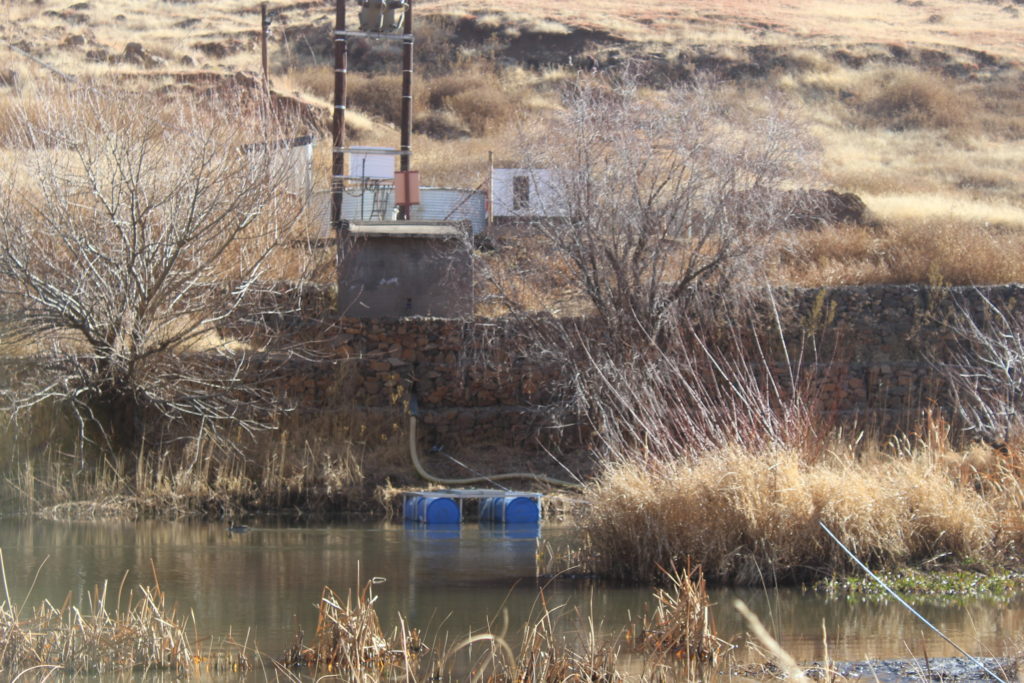 Bothma admitted that the company had not sunk any boreholes and had only helped fix pipes and clear a silt-blocked reservoir: "No!, no! we have not built any boreholes. We have built toilets, not boreholes."
The company hastily deleted the boreholes claim from the site following the interview.
The community draws its water from a protected borehole via a pipe that goes down the village, Bothma said: "During the big droughts, that thing dries up. So what we have done is to help fix the pipeline for them in the past. Once we get phase II going here, we will then pump [water] up to the tank, clean it and pipe it straight to the village. "
But Bothma would not commit to when that would happen. "Cash is tight at the moment and I have to get a few of my sales going," he said.
Promises, promises, promises …
The nonexistent boreholes are just one in a series of unfulfilled promises MG Health has made, according to some villagers.
Before setting up the facility, Bothma had "promised" that the lowest-paid person at the cannabis plant would earn about M4,000.00. (USD 280) per month, but that never materialised, says Moeketsi Hlalele, the local Community Liaison Committee secretary.
"The cannabis plant has impoverished our community … we made much more money from harvesting crops in our fields than what the company is currently giving us in compensation."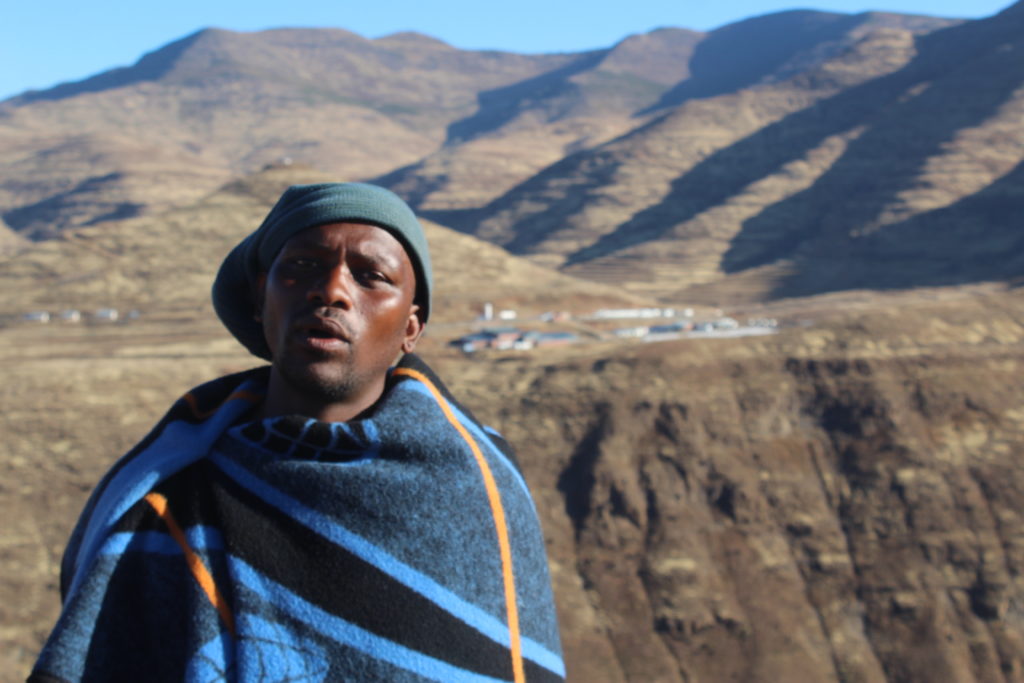 "The cannabis plant has impoverished our community … we made much more money from harvesting crops."

Moeketsi Hlalele, Community Liaison Committee Secretary
Responding to the allegations by Hlalele, Bothma said MG pays its employees more than Lesotho's prescribed minimum wages. It has based its wages on minimum construction workers wages and not farm workers minimum wages which he said are too low.
"From [the money I made selling] one bale of maize that I used to harvest, I could buy one cow or one horse or six to eight sheep depending on who I sold it to. But with MG Health, we are unable to make the returns we were getting from our soil," says Makume Putsoa.
Tsepo Lethobane, a former teacher and now the Basotho National Party Secretary-General, says disgruntled villagers complained from the onset" as they were dissatisfied with what they were being offered by MG Health.
Lethobane said landowners were "led to believe they would receive huge sums of money, but when their first payments came in it was not what they had hoped for."
Lethobane said landowners had hoped proceeds from leasing land to MG would compensate them for what they would have earned selling their crops.
But Bothma said he has a long term lease for the land belonging to 110 land owners, who were paid annually and in advance for the company's use of their land:
"We have compensated them for the wetlands and the water springs that are located here. It is in our lease agreement."
Bothma added that MG Health had built toilets for the community members to promote hygiene and also to ensure the cannabis plants were watered with clean water from the river.
"There were no toilets and the waste runs into the river when it rains and we end up pumping water that is contaminated to water the plants that should be of highest quality, hence we built the toilets," Bothma said.
MG Health's plants gulp more than 24 000 litres daily
The approximate 16,000 marijuana plants in M&G Health's "grow houses" each consume about 1.5 litres daily, around 24, 000 litres, sourced mainly from the Senqunyane river through the enormous water reservoir.
Bothma confirmed that medical cannabis consumes a lot of water, which was why the decision was made to situate the MG Health facility in a location that has ample water resources. MG uses hydroponics for cultivation, he said.
We are running different trials with different nutrients to see what different results we get," Bothma said. "We are running the cultivation 24 hours a day, 7 days a week."
Kekeletso Lekaota, a senior grower working in the facility, gave this reporter a guided tour of the facility. The cultivation area is fed water via a pumping area that houses four 5,000 litres tanks used for mixing varieties of food mixes for feeding the plants and another 2,200 litres tank for nitric acid, used for balancing water Ph.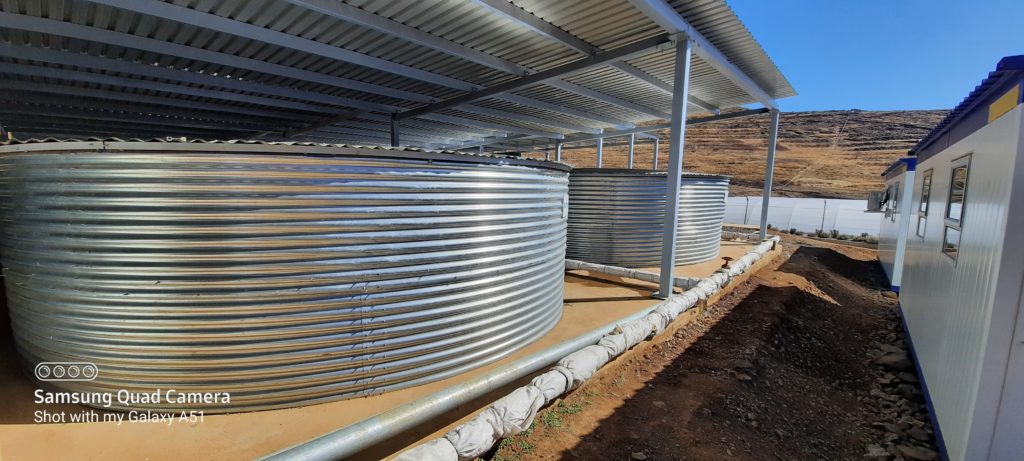 Each 5000 litre tank takes about two months to be depleted, she says. Besides the nutrients mixture plants are fed, each "mother and father plant" one consumes between 1.5 to 2 litres per day, Lekato said.
Eighty percent of the weight of a living cannabis plant is water, with each plant needing from one to two litres of water every day, depending on the climate, according to marijuana growing experts.
Outside the pump house enormous galvanised iron water tanks are housed under a roofed shelter. The tanks serve as a huge water reservoir for irrigation water pumped straight from the Senqunyane river. The water is then fed by smaller tanks through a maze of pipes, which pump water into hydroponic systems to feed individual plants. Inside the greenhouses a cannabis smell that lingers in the air.
Daily struggle for water continues
Meanwhile, daily water struggles continue for many people living near the MG Health plant.
Polao Komane aged 43, is mother to nine children – five of her own and four more she took in after her sister-in-law died. She must collect at least three 20 litre containers of water every day to make sure that there is enough water for her household of 12 people, which includes herself, her husband and her mother- in-law.
Komane often wakes up in the middle of the night to ensure that there is enough time to collect enough water for the day. Many other women from her village also collect water at night, she said.
That the water in communal taps often freeze overnight in winter because of the extreme cold only adds to their misery. Sometimes, they must wait for hours while it defrosts.
"You have to wait in the queue for up to four hours," said Komane.
"And, sometimes, when it's your turn you find that it's depleted and you have to walk even a further distance to get water," she added.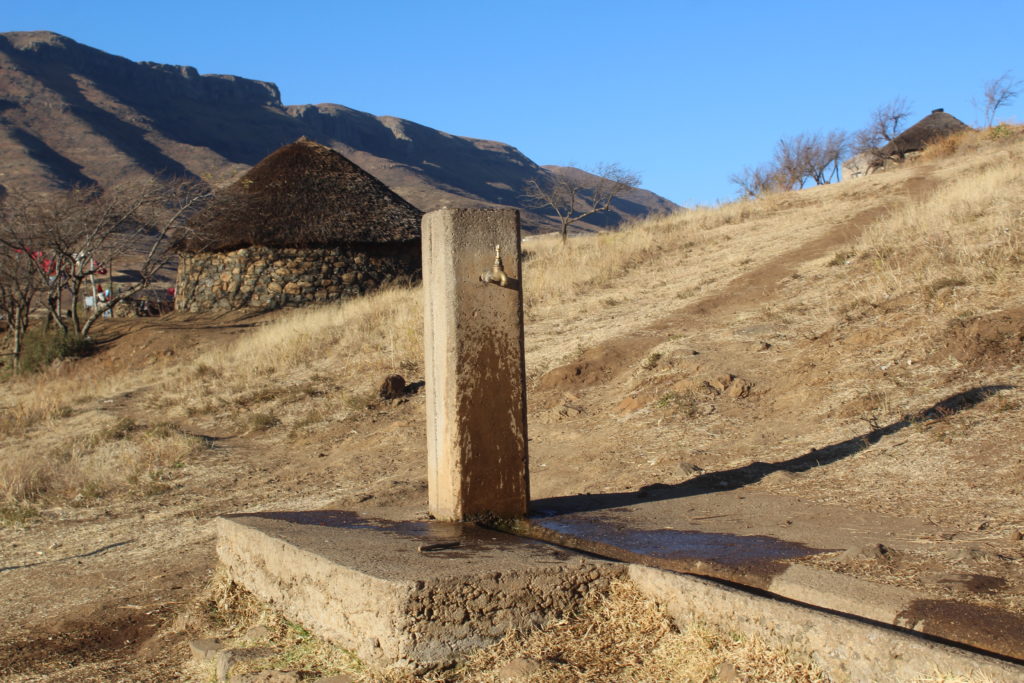 During winter, when natural spring water is limited, the whole village resorts to walking for more than 30 minutes downhill to the Marakabei Health Centre,where the department of rural water supply has constructed a reservoir near a spring, she said.
An imperfect solution
"But the Health Centre's spring is also small and not all people can get water,"Komane said. "We have to wait for more than 2 hours for the reservoir to fill up again."
Her family's three times a week laundry days are a mammoth task that requires all hands-on deck to help collect enough water. They must gather as much as 400 litres using small 20 litre containers to fill two 200 litre tanks at their home.
Mamolaoana Mahase, another resident of Marakabei, is more fortunate. She has a standpipe tap in her yard that is connected to the reservoirs supplying communal taps in the village. But it cost M500 (USD35) to have it installed -a price which many villagers cannot afford. Nevertheless, she still regularly joins other women in long queues at communal taps in order to accumulate enough water so she always has enough even in dry times.
"… we are now using even more water due to the coronavirus pandemic."

Hlalele Moeketsi
Hlalele Moeketsi, secretary of a local community liaison committee–which acts as a link between the community and MG Health–said access to water for the Marakabei and the neighbouring Ha Noha residents remains a huge challenge. He asserts MG Health should provide his community with the clean water sources it promised:
"On average I use over 100 litres of water [a day] for cooking, drinking, washing clothes and dishes, and bathing. But we are now using even more water due to the coronavirus pandemic, which requires frequent washing of hands with soap and running water. We have to wake up very early in the morning to be able to find water as it's not reliably available during the day. "
For her part, Bocanana said that the scarce supply of clean drinking water and the lengthy waits force her to adopt unhealthy measures.
"We sometimes end up digging an unprotected water well just to get back home in time because we have been waiting for too long for our turn to draw water from the well," she said.
This story was produced with support from the Centre for Collaborative Investigative Journalism (CCIJ)