He's done it again, and not just for the second, third or even 10th time. For the 1,246th time this year, Ali Jaafar has hit it big on the lottery.
State records show that since Jan. 1 the Watertown man has won more than $1.8 million from lottery retailers all around Massachusetts — with most of his riches coming from scratch tickets revealing $1,000 prizes. Jaafar is on track to be the winningest lotto player in Massachusetts for a third consecutive year, and nothing yet seems to be getting in his way when it comes to winning.
Most Viewed Stories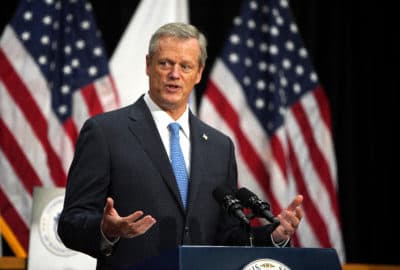 It's Official. Phase 3 Of Massachusetts' Reopening Begins Monday
Jul 2, 2020Tsarnaev's Handwritten Hospital Interrogation Answers Revealed In New Court Filings
Oct 22, 20181 Dead, 4 Injured At Lynn Cookout
6 hours agoStretch Of Mass. Pike In Allston Will Be Rebuilt At Ground Level, State Says
Jan 10, 2019
Get the editor's can't miss stories of the week, and tips for navigating life – and weekends – during the coronavirus outbreak. Sign up now.
Not a streak of bad luck. And not a new state policy designed with the specific purpose of cracking down on people who rake in large lottery prizes with what many see as remarkable frequency — winners just like Jaafar.
Announced last year, the policy went into effect, after a delay, on July 27. It allows lottery officials to investigate — and ultimately penalize — anyone who wins 20 or more lottery prizes valued at $1,000 or more within a calendar year. If the lottery director determines a person's lucky streak is "factually or statistically improbable," the new policy allows the lottery to freeze the player's payouts for months.
Lottery records requested by WBUR reveal, however, that the players with the highest frequency of winning are still collecting tremendous wins, despite the policy.
Letter Of The Law
On Aug. 14, the lottery sent letters to 54 people it says "fit the definition of 'high-frequency prize winner' " to let them know about the new policy and its consequences, lottery records show.
"We are enforcing the policy immediately," reads the letter signed by lottery Executive Director Michael Sweeney.
The lottery declined multiple requests for an interview and instead asked WBUR to submit questions via email.
"Implementing this policy is a major step forward in addressing potential issues of money laundering and other illegal activities and the potential avoidance of outstanding child support liabilities, and taxes and fees owed to the Commonwealth," Sweeney said in his emailed responses Monday, adding that the policy "remains a top compliance issue for me."
Since the policy took effect, Jaafar, each of his two sons and at least 10 others have individually won enough to trigger a potential hold on their awards. All of those individuals, except for one, were sent letters notifying them of the policy. But, for those 13 people, lottery records show the agency did not suspend their prizes.
Together, those frequent winners — who could have had their prizes withheld under the new policy — have won about $1.7 million from July 27 to Oct. 9.
Gregory Sullivan, research director at the Pioneer Institute and the state's former inspector general from 2002 to 2012, has researched vulnerabilities in the lottery in the past.
"There is a phenomenon in state lotteries," he said, "where certain individuals defy all laws of probability and statistics" with the rate of their success. He explained that often, people who frequently cash in lottery tickets aren't winners at all — but are instead collecting wins on behalf of others trying to evade taxes.
The lottery's Sweeney also says he believes it is likely frequent cashers are not actually winning — but cashing in wins for others.
"This is a well-known problem, you know, not just in Massachusetts," Sullivan said in a phone interview Tuesday. "But it is a well-known problem in Massachusetts, and it has been for some time."
He called the Jaafar family's wins "astounding" — "especially [because they're] in one family."
600 Wins Since Policy Went Into Effect
Ali Jaafar won 256 times and collected more than half a million dollars since the policy began. That's an average of nearly three and a half wins of at least $600 every day.
The 60-year-old's two sons, Mohamed and Yousef Jaafar, share their father's winning ways. In that same period, 28-year-old Mohamed has won 190 times, and 25-year-old Yousef, 158 times.
The Jaafar men are the state's top three lottery winners between July 27 and Oct. 9, together winning 604 times for more than $970,000.
The three Jaafar men are the state's top three lottery winners between July 27 and Oct. 9, together winning a total of 604 times for more than $970,000, records show.
Four hundred and sixty-four of the Jaafar family's wins in that period were made after Aug. 14, the day the lottery sent letters to frequent winners alerting them to the new policy.
This total includes the family's significant winnings on Sept. 5. Within that single day, the three men won 33 times for a total of $35,500 in places all around the state. Ali Jaafar purchased his winning tickets that day in Oak Bluffs, Lexington, Chelsea, Everett, Revere, Somerville and West Roxbury.
2018 will be a memorable one for the Jaafars. The trio has won close to $3 million so far this year, with more than 2,000 wins in over 700 locations. They have won the lottery in 40 percent of the state's towns and cities where the lottery can be played.
"I don't want to speak. Nor do I care what you guys have to make up," Ali Jaafar told a reporter Wednesday morning before hanging up his phone. He asked the reporter not to call again before hanging up a third time.
'Why Is The Practice Continuing?'
Sweeney said the lottery "will not comment on any specific individual."
Instead, he focused on the new policy, saying a review is now triggered whenever a person wins 20 $1,000-plus prizes in a calendar year. "The policy allows for an internal review of a high-frequency prize winner prior to making any determination or imposing any penalty. We have an active pathway on these issues, have implemented them and will continue to do so," Sweeney said in the email.
Sullivan, the former state inspector general, says the policy is a wise step, but he questions its effectiveness. He questions what happened to the crackdown.
"If there are people out there who are acting as illegal agents, cashing lottery tickets for other people for the purpose of evading taxes, for example, then that should be shut down," Sullivan said. "And the lottery has adopted a new reg[ulation] that allows them to initiate investigations and notify the people, which they have reportedly done. But the question is, why is the practice continuing?"
The lottery says it is working with the IRS as well as federal and state law enforcement agencies, including the Massachusetts State Police, in "ongoing investigations."
"We are acting with caution to ensure we do not jeopardize those investigations," Sweeney said. "Our goal is to make a lasting impact."
"In other words, they want to catch them in the act," Sullivan said in response to Sweeney's comment. "… It seems to me they'd be able to investigate [the Jaafars] earlier, but … now that the regulation is in effect and people are notified, it is possible that they have the state police investigating this with the names."
Sweeney insists the lottery "games are as, if not more, secure than ever before," and frequent winners are not changing the odds of winning for anyone else.
A Separate Case In New Jersey
"Thank you," Yousef Jaafar replied, when a reporter spoke to him in the doorway of his family's four-bedroom home Saturday morning and said he appeared to be a "really lucky person." He confirmed he studied business analytics in college and did marketing for his father's company, a business registered with the state as Assorted Phone Cards, Inc.
He declined to speak about his family's lottery wins or an ongoing racketeering case in New Jersey's Middlesex County Superior Court that prosecutors have described as a "large-scale international bank fraud ring that operated a multi-million-dollar scheme to steal from banks and corporations." Yousef and Mohamed Jaafar — and the brothers' mother and sister — are among 46 people who have been indicted in the case, and the brothers have pleaded guilty.
"I know you called [a few months ago], I said, I didn't want to talk. There's no change from then and now. I don't want to talk. Thank you," he said. "Please. No one will want to talk. We're all set."
According to the 2016 indictment, prosecutors say the alleged criminal enterprise in New Jersey set up fake "entrepreneurial" businesses "expressly created to receive fraudulent wire transfers of money from unsuspecting victims." Those businesses, prosecutors say, were set up to launder money, often sending it overseas to China and other places.
The Jaafar brothers both pleaded guilty to a second-degree conspiracy to commit theft by deception charge.
They are both scheduled to be sentenced on May 3, 2019.